Posters, Brochures and Videos Highlight Issues in Your Computer Science Curriculum
Resources for K-12 Educators
CSTA is the leading advocate for high school computer science at the national level. In addition to its direct involvement in establishing a nationwide computer science curriculum, the organization works passionately to raise awareness of the impeccable qualifications of computer science educators and to provide them with a greater opportunity for professional development.
CSTA also supports projects that communicate the excitement of computer science to students and makes them aware of the opportunities the field provides. One way CSTA accomplishes this goal is to provide free of charge a number of resources that highlight different aspects of computer science, including:
One poster focuses on cyber security, another highlights exciting careers in four growing areas, and yet another invites students to make connections between computer science and their favorite sports and games.
Brochures include Imagine Your Future in Computing, which helps students make connections between the technologies they use every day and the courses and career opportunities available to them. Another brochure, Computing: Degrees and Careers promotes a new ACM website for high school and college students, which includes information on educational pathways, job opportunities, and skills matching for a wide variety of computing careers.
A video entitled You Can Be Anything uses the power of media to give young people, particularly girls and young women, a positive impression of the career opportunities available in information technology and science-related fields where technology plays a major role. The University of Washington Computer Science & Engineering Department has created two videos. One addresses questions of why college students and faculty choose computer science & engineering as their field and the other shows what takes place during a day in the life of a CSE bachelor's alum working in the software industry.
Other Resources you'll find include the Careers In Computing and Information Technology Lesson Plan, a career site for graduating students, ACM's Computing Carreers website, and the ACM Career Resource Center.
Why I Belong to ACM
Hear from Brian Cantrill, vice president of engineering at Joyent, Ben Fried chief information officer at Google, and Theo Schlossnagle, OmniTI founder on why they are members of ACM.
ACM is a volunteer-led and member-driven organization. Everything ACM accomplishes is through the efforts of people like you. A wide range of activities keep ACM moving, including organizing conferences, editing journals, reviewing papers and participating on boards and committees, to name just a few. Find out all the ways that you can volunteer with ACM.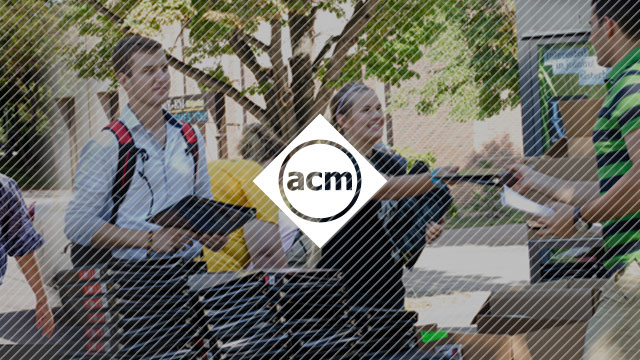 The ACM Conference on Computer-Supported Cooperative Work and Social Computing is the premier venue for presenting research in the design and use of technologies that affect groups, organizations, communities, and networks. Keynote speakers are Google Data Editor Simon Rogers and Instagram Co-founder Mike Krieger.